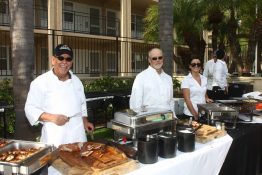 THE TULSA RIB COMPANY
An Award Winning Barbecue Caterer for Your Event
If you are planning a family reunion, business function, company picnic, meeting, corporate event, or other special gathering and enjoy Western-style barbeque food, a good choice would be the Tulsa Rib Catering and Event planning.  We recently became aware of this award winning barbecue center that has been doing business over 32 years, and can cater a delicious menu for groups from 30 to 15,000.  They offer full service BBQ catering for 85 or more guests or drop off catering for 30 guests or more.
The Tulsa Rib Company owners, Steve and Liz Parker realized there was a need for a special BBQ place in their community and opened The Tulsa Rib Company in 1981.  Famous food critics came a- calling and pronounced the offerings to be sensational.  Following the rave reviews the restaurant became nationally and internationally famous.
In order to handle the immense demand the Parkers began catering services with enlarged menus with many choices besides their delicious baby back ribs.  The listings for main dish choices are BBQ chicken, boneless country pork ribs, boneless short ribs, chicken enchiladas, chicken-apple sausage, teriyaki chicken, boneless Hawaiian pork, and even a specialty sandwich roll.
They give back to their community by supporting numerous charities and various school educational foundations in Orange County, CA.
We are happy to be supportive of such an amazing and charitable venue.  Check out their facilities, location and food choices.  www.tulsarib.com