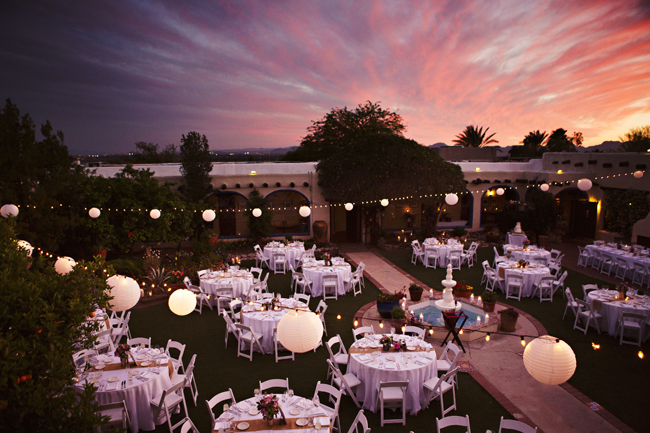 Tucson AZ Guest Ranch Resort – Hacienda del Sol
We like to look at many different options to find fabulous reunion venues. If a desert location is primary on your potential selection list, the Hacienda del Sol Guest Ranch Resort in Tucson, Arizona is a beautiful site with incredible views, great dining and in picturesque outdoor setting for any reunion size. Built in 1929 as a desert retreat, it is nestled in the foothills of the Santa Catalina Mountains on acres of natural desert. It is included in the National Registry of Historic Places in Arizona and is a member of the Historic Hotels of America.
Hacienda del Sol – Event Accommodations
Other opportunities during a reunion weekend might be enjoying the garden patio lounge with live music for a balmy Friday night pre-reunion gathering or just wander through their luscious Botanical Gardens or organize a wine tasting event.
They have large and small dining areas for any size reunion up to 150 for dinner in their largest dining areas including the covered patio as well as the Casa Feliz. We've heard from the local community that the food is award-winning and reasonably priced. We also understand their wine list is extensive and also worthy of many accolades from wine enthusiasts. There are also many activities to enjoy if a family reunion is in the works such as hiking, horseback riding, biking, bird watching and of course, golf.
Hacienda del Sol – Location
The Resort is 30 minutes from Tucson Airport. Since most reunion committees want a location that is affordable for most of their guests, a key consideration is cost. Send an inquiry to their catering manager listed on their website to find out if this unique location meets your group's financial needs.
Hacienda Del Sol
5501 N. Hacienda del Sol Road
Tucson, Arizona, 85718
www.haciendadelsol.com
520.901.1399- Catering Office