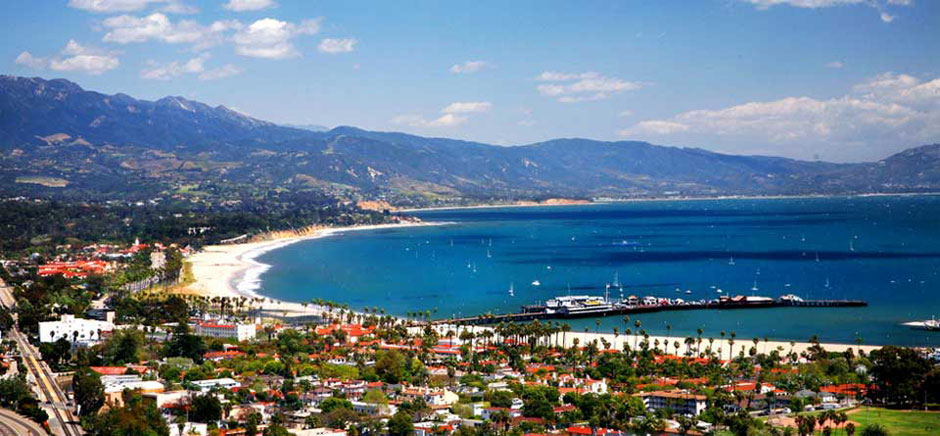 Beach City Family Reunions
Living in California, we are deservedly proud and thoroughly enjoy our beautiful coastal cities.  Along our theme of finding wonderful destinations for reunions, we are preparing a series of articles highlighting places along the California coastline.  Beach city family reunion locations can be magical.  Combined with beautiful scenery, excellent year-round weather conditions, an abundance of delicious and affordable nearby restaurants and activities for all ages, such locales would create a memorable reunion.
The first city on our quest for the perfect family reunion location was Santa Barbara.  This City is located only 1 ½ hours from our bustling City of Los Angeles.  The difference is palpable.  No need to rely on an automobile since most destinations are within walking, bicycling or bus distance.
While bordering the Pacific Coast, the city is surrounded by mountains dotted with red-roof Spanish tile. There are miles of beaches and bike paths to devour the views and stop at the beach to swim, soak up the sun or just relax.  Walk into the downtown and enjoy shopping and dining in their many restaurants, or enjoy the culture and local artists when galleries extend their hours and downtown streets become outdoor stages. On Sundays all year, Cabrillo Boulevard transforms into a stretching seaside celebration of local arts and crafts.  Santa Barbara is known for its wine tasting and culinary specialties, particularly seafood caught fresh off their shores.  One can also find an assortment of ethnic restaurants in addition to all the American favorites.
Activities.  Santa Barbara has an array of activities for all ages including horseback riding, golf, bicycling, gambling in the Chumash Casino, wine tasting, shopping, sightseeing or just relaxing and swimming on the beach.  For destination sighting, tour the famous Santa Barbara Mission—one of many along the California countryside, and one of the most beautiful.  Their City Hall is not to be missed.  It is a magnificent example of Spanish architecture for which Santa Barbara is renown.  There is more to discover about Santa Barbara's art, architecture, museums and history:  Visiting Santa Barbara Museums.
Santa Ynez Valley, just a few miles from Santa Barbara is set among rolling hills with exquisite views and premier wine country with many wineries to enjoy tasting.  The movie "Sideways" was filmed in Buelton, one of the many charming towns in the Valley and where the now famous restaurant, The Hitching Post, which was featured in the film is situated.
Solvang, the famous Danish settlement, established in 1911 by Danish immigrants from the Midwest, is in Santa Ynez Valley.  Restaurants, bakeries, unique shops and art galleries preserve the Danish tradition.
Channel Islands National Park, off the coast of Santa Barbara, is one of the most unique and breathtaking in the country. Five islands make up the archipelago and surrounding marine sanctuary with its long seclusion from the mainland has created unique animals, plants and archaeological resources found nowhere else.
Don't wait, plan ahead and start searching for locations.  Visit SantaBarbara.com for hotels, inns and convention centers.  This will be a reunion that will be the most memorable yet.