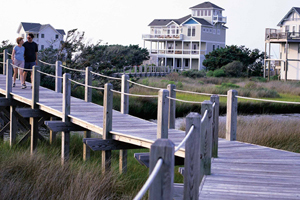 Planning your family reunion for next Spring or Summer?!  The Outer Banks of North Carolina is an excellent destination you may want to consider.  Known for its beauty, activities, and festivals— family reunion organizers will find many activities that will keep their members occupied, happy and fulfilled.
Let's look at the possibilities:  The year's calendar may include in  "Taste of the Beach" (food festival, wine tasting, cooking classes, specialized menus, brewery tours, tapas crawls, etc.  Here are some annual events planned:
Four days of food, drinks and fun, presented by the Dare County Restaurant Association. This grand
food festival will feature wine tastings, cooking classes, special menu presentations, celebrity guest
chef appearances, brewery tours, tapas crawls and many more events with an exciting array of creative
combinations and culinary delights.
Virginia Dare Trail/Beach Road, MP 11.5 – 10.5, Nags Head. 1 p.m. rain or shine. The largest St.
Patrick's Day Parade in NC travels the greenest mile in the Tarheel state. Over 1,500 participants and
approximately 10,000 spectators enjoy an afternoon filled with floats, live music, marching bands and
creative marching/walking/motorized units. kellysrestaurant.com
Southern Circuit Film Tour: A Gift for the Village
Location TBA. In 1995, American artist Jane Vance met a Tibetan man whose significance would
inspire a collaboration culminating in A Gift for The Village, a documentary about an artist chosen to
paint an eminent Tibetan amchi-lama—doctor and mind-healer—and about her painting as a gift for
his village, reciprocated by a celebration during an elaborate festival, and by unprecedented access to a
vanishing tradition. Filmmaker Tom Landon and Artist Jane Vance will be on hand to discuss the film
with the audience and answer questions. darearts.org.
Outer Banks Sounds Music Showcase
Presented by WVOD the Sound and Dare County Arts Council, Kelly's Restaurant and Tavern, 7-9pm,
every third Thursday through April. All original, all local musicians perform original music.
Culmination of ongoing showcases will be an Outer Banks Sounds album. darearts.org
10th Annual Outer Banks Bike Week
Packed full with entertainment, great food, events and special attractions. Bike Shows, Poker Runs,
Guided Tours, Party Nights, Tattoo and Bikini Contests, Over 100 Vendors, Live Music, Outdoor
Concerts, Pig Picking & more! outerbanksbikeweek.com
And more into the year.  Check out their websites and contact the area's locations managers to see if
this sounds like the place for your next family reunion.