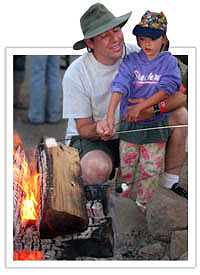 Experience a Reunion surrounded by Nature
If you like to experience nature in a civilized setting for a family reunion, Montecito, Sequoia is a good bet. Nestled in the California Sierras, families can enjoy beautiful vistas, a small lake for boating and other water activities and games designed for any age and outdoor interest.
Enjoy hiking or just strolling among the large ageless sequoia trees.
The altitude is about 7,500 feet above sea level so the nights are cool.
You can stay for a few days or a week. The common schedule is a week. They have a large main lobby that can serve as a central meeting place or side rooms where small groups can congregate. The cabins can accommodate large families and the activities are endless. There are activities for children and adults, together and separate including the following:
Water skiing
Hiking
Outdoor camping
Swimming
Boating
Archery
Tennis
Horseback riding
Ping Pong
Canoeing
Volleyball
Fencing
Arts and crafts
And many more
The action never stops. They have campfires in the evenings and for those who want to stay up late, dancing and other events go on into the evening. The counselors provide entertainment and performances involving the guests. Some may say the jokes and songs are hokey but everyone has fun.
There also are private rooms so the families can mingle and have their own group activities.
It is a chance to be in nature in the beautiful sequoia forest. Only a 2-hour drive from Visalia, California. Visalia is a mid-sized city at the crossroads of Interstate 395 and Highway 99. Stop by the supermarket on the way if you need any last minute toiletries or other necessities at a better price than the local markets in Sequoia. Also, there are several little towns along the way before you head out to the forest. However, when you're in the Lodge, you don't need to go far to get anything you want.
Their meals are all inclusive. The food is served in cafeteria style with everything homemade and served. You get three meals a day including a full breakfast. They have winter vacations too but summer would be my preference.
Let the family do the traveling and you all can enjoy a beautiful setting.
Contact them at their website: http://www.mslodge.com/ Reservations and information: 800-227-9900
Monday – Friday 9 a.m. to 5 p.m.

© Copyright Linda J. Hoffman and ReunionPlanner.com. All Rights Reserved.