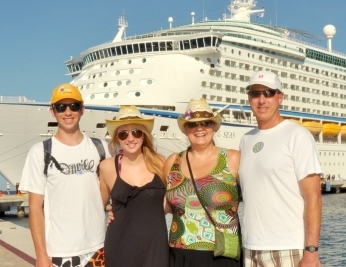 A Cruise Ship Reunion
CRUISING DURING THE HOLIDAYS
A SEA-SONAL FAMILY REUNION
It wasn't exactly a white Christmas this year for my family and me.  No, Jamaica, Cozumel and Grand Cayman don't get much snow – even in late December.   But the Halls were Decked and Santa Claus did come to town on the Royal Caribbean Voyager of the Seas Cruise ship.
My wife and I planned to spend Christmas with our two teenagers and booked a trip to New Orleans where we caught the Royal Caribbean for a 7 night-cruise, leaving Christmas Eve.  The ship was fashioned in fine holiday décor, including a huge Christmas tree.  Even Santa Claus made an appearance on Christmas morning.
Cruise Reunions – Activities
Because it was the holiday season, there were many family groups having reunions.  The Voyager was built in 1999 and at the time, it was the largest ship in the world with 1557 staterooms and a capacity for over 5000 people, including the crew.  The cruise had a variety of games and sports such as volleyball, swimming and basketball.   There even was an ice skating rink and a rock climbing wall.  Entertainment options included bingo, movies, Broadway-style shows, dancing and more.
Cruise Reunions – Accommodations
A Promenade Deck was stationed in the center of the ship, which was like a small town, with shops, restaurants, bars and more.  Some of the inside staterooms even had views of this "town" from their windows.  We also just liked to relax in our stateroom.  Having just finished a week of cramming for high school final exams, my daughter relaxed in our suite and watched DVD movies while my son read an 850-page book.
We chose a large suite cabin this trip so we could all spend time together (we booked our kids a separate cabin on our last cruise and barely saw them the entire voyage).   The suite cabin had access to the concierge lounge.  If we didn't feel like trekking to the main dining room, the lounge had Danish pastries and an espresso maker for morning Lattes.  In the late afternoon, we enjoyed a cocktail hour with drinks and light appetizers and it allowed us to socialize with some of the other Voyager guests.  The concierge in attendance also helped book our outside trips and ship tours.
We enjoy traveling with our family on cruises because everyone can always find something to do on their own and meet later for dinner or other event or activity.
Cruise Reunions – Port Days
There were two formal nights during the cruise when everyone dressed up for dinner (a good time to amortize that Tux or evening gown that you wondered if you would ever wear again).  Also, with the ship's photographers snapping multitudes of family pictures, it was a great opportunity to get pictures for our annual holiday card.
Another "gathering" point for groups is on the port days.  There were 3 port days and 3 at-sea days.  For port days, the ship generally docks early in the morning with several excursions to chose from at each stop – or you can "go-it-on-your-own" (which is riskier, but almost always less expensive).  The four of us decided to head to the nice beaches at each port where we basked in the warmth of the sun and waters.  We also swam and rented equipment to snorkel.  In Jamaica, we took a boat out to a beautiful reef.
All in all, cruising in the Caribbean was an exciting adventure.  We would definitely do it again, in small OR large scale family increments!